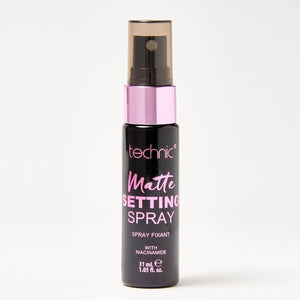 Technic Matte Setting Spray
Experience an all-day flawless finish with our Matte Setting Spray – the secret to locking in your makeup for your day ahead. Our formula contains Niacinamide, a skincare superstar known for its beneficial properties, from moisturising and hydrating to helping to strengthen your skin's natural barrier. Get ready to set, spray, and slay with this affordable beauty essential!

💧 Contains Niacinamide, also known as vitamin B3, which boasts a wide range of skin-nourishing benefits.
💧 Drys matte for that shine-free, soft-focus finish.

After your makeup application, hold the bottle 15-20cm away from your face and give it a light, refreshing spritz. Let it dry naturally, and you're ready to conquer the day with your look intact.
 🐰 Vegan Friendly & Peta Approved